Last night I sitting in the latest Dale Carnegie Course facilitated by Laura Nortz. We were in session 4, reviewing success stories with the first set of Dale Carnegie Principles.
During the second half of the session, I heard one of our account managers deliver a remarkable demonstration of exceptional sales acumen, even though she has been on the job for just over two months.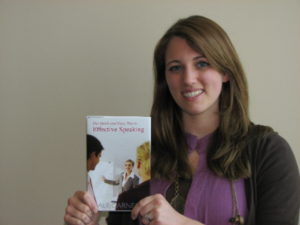 "The Secret Of My Success". See Kim's Linkedin profile here:
Kim Hartzler, new account manager, had been trying to get some talk time with an HR person regarding one of the new assessment services that we offer. Kim was constantly getting the brush off. If you are in sales, I know that you've heard some of these before:
I'm busy right now.

I don't have time.

We aren't buying anything right now.

I'm on my way out the door.

Now is not a good time.
On this particular instance, Kim had caught her prospect on their way out the door and she got the standard litany of replies.
On this particular occasion, Kim thought about the Dale Carnegie Principles and thought about some of the challenges that they faced. Then she said, "Let me ask you just one question. I know that you spend a lot of time scouring through resumes trying to find the right person to fill a position. What would it be worth to you if you could eliminate the amount of time you spend searching through resumes, yet increase your certainty of getting the right person in the right place the first time?"
Apparently, Kim hit a very raw nerve because her contact paused and then said, "We need to talk".
Since the start of this ugly recession (or at least since the financial wizards admitted that we were in an ugly recession a year after the fact), we have been bombarded with questions from sales reps looking for the"unfair advantage" that will give them an edge. Questions like:
"How do you open a sales call?"

"How do you keep your contact on the phone when making a cold call?"

"How do you respond when your contact says that they aren't buying anything in this economy?"
In every case, my response is the same. Stop talking about you, your company or your product. Talk about something that your prospect is interested in.
In the good old days of selling when times were good and the money was flowing freely, you could get away with talking about the marlin on your prospect's wall, the latest super hot car, or the fantastic restaurant down the street.
What are your prospects interested in today? Try these:
How to save time.

How to hold on to their jobs.

How to increase cash flow using their current resources.

How to leverage their technology to decrease their financial costs.
Your prospects today want to talk to someone that can help them solve their challenges and issues more than ever before. They don't have time to waste talking about pseudo hobbies.
Come to think of it, they didn't have time to waste before. But now the tolerance threshold has dropped into the basement. So if you can't talk about something that they are extremely interested in, be prepared to get booted out the door, while watching someone else who has that capability, like Kim Hartzler, swoop in and walk away with your business.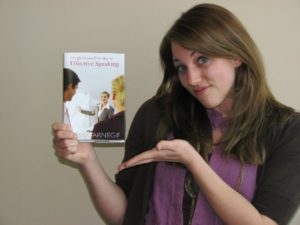 For Hartzler, exceptional presentation and communications skills is a no brainer
Do you want an unfair advantage? Follow Kim's lead and take the time to discover the challenges that your prospects face daily. Then talk about how you can help them resolve those challenges.
I'll leave you with these words of wisdom regarding the "unfair advantage" I picked up from Aptela when I worked in the telecomm industry:
"The advantage is unfair only if you ain't got it."
Go get 'em.