LinkedWorking Networking Event In Northeast Ohio Is The Biggest Yet
Unless you live way out west, then you probably attended the largest LinkedIn Networking event in Northeast Ohio.
That's right. Lewis Howes has done it again. The Cleveland Linkedin Networking Event at the Rock Bottom Café was the largest yet. Over 700 people registered with over 250 people stating that they wanted to attend but had other engagements.
Of course, the place didn't seem as packed this time.
For starters, the food was upstairs which encouraged more people to migrate to the second floor where Lewis had planned all of the events.
The other addition to this gathering was the Speed Networking event that Lewis put together.
Like Speed Dating, this exercise involved 50 people sitting across from each other along a long table. And for a pre-selected amount of time, each pair had the opportunity to introduce themselves while asking questions of their partners.
And when the bell went off, individuals got up and "slid to the right" to engage their next new partner.
I guess when you are in these kinds of situation, much like you are when you are in sales, you have to know the kind of questions to ask and the outcomes you are trying to achieve.
You didn't have to pay extra for this event, nor was there a lottery. The selection process was very simple – the first fifty attendees got to participate.
Unique Door Prizes and LinkedIn Headshots
Unfortunately, I couldn't make it to the location in time for the Speed Networking. I was creating one of the rather unique door prizes for the event so I didn't arrive there until 6:30. The next time we put together promotional door prizes, I think we'll get someone whose knowledge of basketball is not limited to Cheech and Chong's "Basketball Jones" and their vocabulary extends beyond Cavaliers, Bulls, Lakers and Celtics.
I didn't see Barry from RippleResults, but photographer Robert Schleimer from Erie Shore Photography was there. And unfortunately, no one expressed interest in getting a headshot for the LinkedIn profile.
I think the majority of people where there to socialize and take in an adult beverage or two. But, if Bob shows up again, I'm gonna bring my hat and get a more interesting headshot taken for my profile.
The next LinkedIn Event will most likely be held in Columbus, but it will be after the CONES event on September 17.
Keep your eyes open, your ears to the ground, and keep monitoring the LinkedWorking groups for Cleveland and for Columbus.
Good Selling!
And now for some fun!
LinkedWorking Cleveland Networking Event
---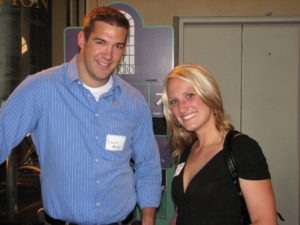 Lewis Howes at the entry table signing in guests at the LinkedWorking Cleveland Event.
The activity on the first floor was fast and furious.
However, the second floor is where much of the action happened. For instance, the 50 person Speed Networking session.
Not to mention the fantastic spread that was available.
And as usual, Lewis was moving about the crowd making sure events proceeded as smoothly as possible.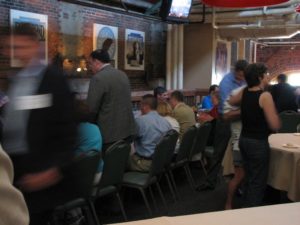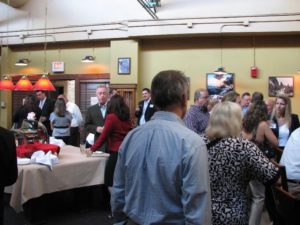 If you stayed on the first floor this time, you missed out on some major action. The next time this event is in Cleveland, be sure to unleash your inner explorer and wander around a bit.
---
Here's Sheryl Berman, an event planner who wants to get back into nonprofit and Zolt Seregi from Onelink Technical Services. When people make connections, the effect is obvious and the results are outstanding.
Here we have Michael Smercina, a mechanical engineer and recent grad specializing in metallurgy, and Andrea Jakubowycz, an active distributor of PartyLite. Both are looking oh so serious…
…But after unleashing their passion…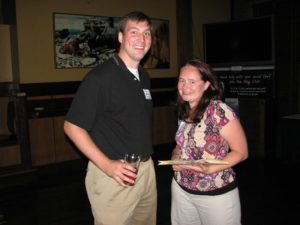 …They look like they have taken Jonathan Crane's advice to Batman and have lightened up. Networking events can be fun when the pressure is off and we can truly connect with people.
Drew Grdina, Patty Quinonez, Daniel Ramos and Mark Klanac exchanging contact information and professional history. Drew Grdina, the only guy in the picture with a tie, was a former Dale Carnegie Sales Advantage graduate and Instructor before creating Crestwood Management LLC.
Have an interesting experience in any one of the Ohio LinkedIn Events?
Leave a comment below and share the wealth.