"Well, there's no problem. If you have a gun, shoot 'em in the head. That's a sure way to kill 'em. If you don't, get yourself a club or a torch. Beat 'em or burn 'em. They go up pretty easy."  -Sheriff McClelland, Night of the Living Dead (1968)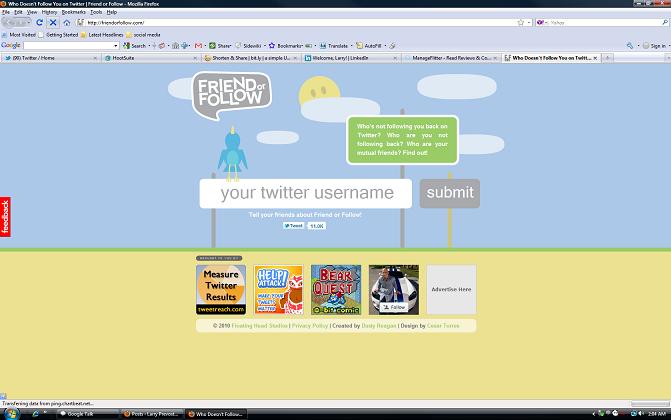 Here is an observation I discovered while using FriendorFollow.
If you use this app to manage your Twitter followers, you will find that you can't remove some of them. Their avatar will show up in the FriendorFollow social array. But when you hover over the avatar, you see, "Sorry, this does not appear to be an active twitter account". When you click on the avatar, you see this:

I don't know how the development team wrote the FriendorFollow code or how often they update their MySQL database.
However, here's something I discovered that may clean up some of those zombie avatars from your social graph.
Cleaning Up Your FriendorFollow Array
While using TweepSync to identify my non-followers, I discovered a few accounts used the same avatars as some of my FriendorFollow non-followers. The account names between the two, however, were different.
What I'm thinking is that the owner of these accounts shown in FriendorFollow changed the name of their account. As a result, they left an account name in the FriendorFollow database that isn't tied to a Twitter account.
And you'll have the toughest time removing them out of your array.
However, the new account owns these old account avatars. When I identified these new accounts using TweepSync and un-followed them, FriendorFollow also removed the corresponding zombie avatars
Now, some active accounts that are still following you might own some of these zombie avatars. You'll have to look and verify the accounts. After I eliminated all of the identified non-followers, I got my list down to the 8 zombie  avatars. Only a few had used the same avatar or made a small modification of their account name. This made the Tweepsync accounts easy to cross-reference with FriendorFollow.
The others, however, used radically different avatars and account names.  A one-to-one correlation succeeded in identifying the offending accounts and I retired all of these zombie avatars except one.  Twitter had suspended this account and took care of the issue for me.
Keep this in mind when you are using FriendorFollow and you can't clear some of those rogue avatars. Head on over to TweepSync, identify their new account name, and then remove them.
Then you can re-follow the new accounts and get your FriendorFollow database back in sync.
Know that dustyreagan is working on this issue. You can find the open ticket exchange here: Issue 430: Remove Suspended Accounts from Social Graph Data.