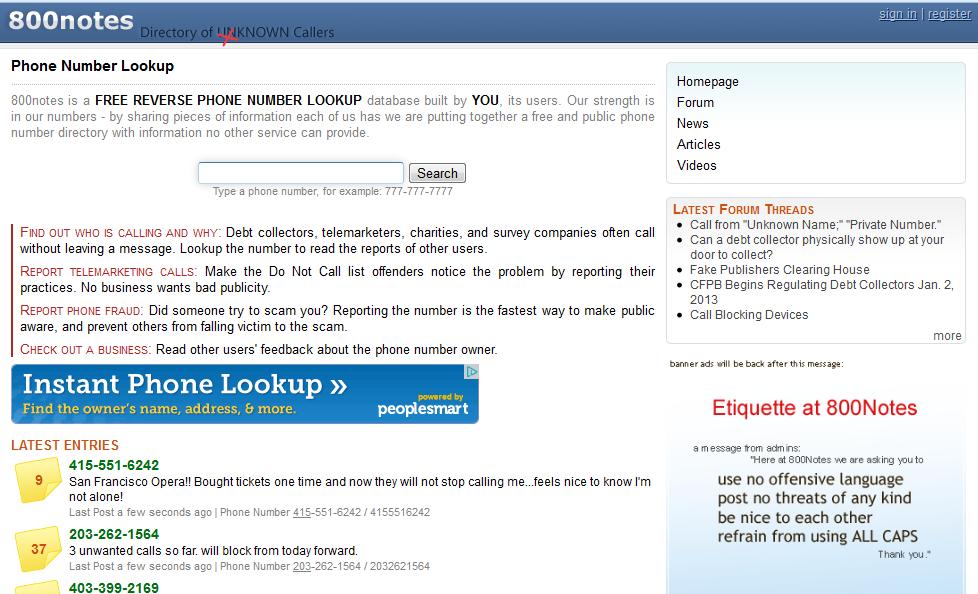 Do you occasionally get calls from unknown numbers?
Just the other day, I got a call from an unknown caller. Their number wasn't blocked, but I didn't recognize it, especially the area code. Naturally, I let it go to voicemail.
With Google Voice, I can listen in to hear the name of the unknown caller, if they leave one, and I can listen in to the voicemail message, if they leave one.
I can even break into the message and speak with the caller if it's something that I need to address.
However, this caller chose not to leave a message. The call ended before the system was ready to record. A power dialer probably made the call and disconnected it when no one on my end said, "Hello".
How many times has that happened to you?
Curious, I went to Google and typed in a search on the number. And Google spat back the usual list of number references, yellow pages entries, white pages selections, and reverse number look-up applications.
One entry stood out: 800notes.com. According to their site:
800notes is a FREE REVERSE PHONE NUMBER LOOKUP database built by YOU, its users. Our strength is in our numbers – by sharing pieces of information each of us has, we are putting together a free and public phone number directory with information no other service can provide.
When I clicked it, I found a wealth of information on the number, all of it crowd sourced from the web population. I'm talking about people who have received a call from this number in the past and left notes of their encounter. For this particular number, the crowd made it plain that it was from a cold calling company whose sales reps were not very good at initiating a sales call, and it sounded like a scam to boot. In fact, included in the post stream were words like "intimidation", "ignorant", "liars", "belligerent", etc.
If you are getting calls from unrecognized numbers and the caller isn't leaving a message, take a quick spin over to "800notes, The Directory Of Unknown Callers", and see if their number pops up. This will let you know if returning the call is a good idea or if you should put it on the "block" list and avoid it like radioactive kryptonite.
Needless to say, if you are a lead generation house or a sales rep making outbound cold calls, you do not want your number popping up here.